Folly Coffee House & Cafe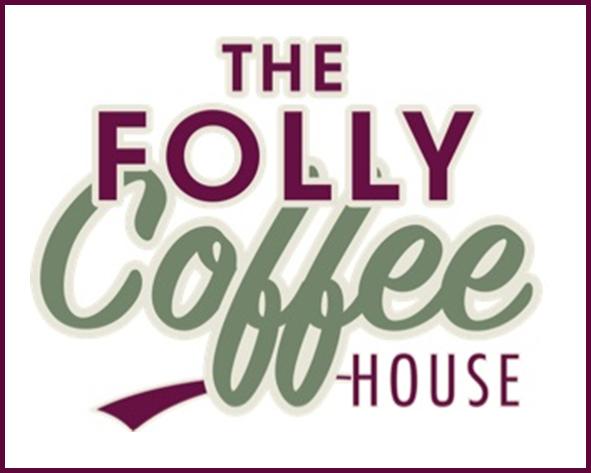 The Folly Coffee House

& Licenced Café

Victoria Street SETTLE BD24 9EY
01729 825 185
Exceptional Food and Drink
served in the unique surroundings of a
17th Century Grade 1 Listed Building
Family Friendly # Dog Friendly # Free WiFi
Tasty cakes, drinks and snacks (and more cakes!)
available throughout the day

♦ ♦ ♦

CONTENTS

(Click for information)
Opening Times
Menu
Afternoon Tea
Find Us
Parking
Disabled / Wheelchair / Pushchair Access
What our Customers say ...
Photographs
Museum of North Craven Life
Hire the Folly

♦ ♦ ♦

Gluten-Free and Vegetarian selections always available

♦ ♦ ♦

Family Friendly
Children's selection on Menu
Baby-changing facilities
Toys & Games
♦ ♦ ♦
Dog Friendly
We welcome well behaved dogs in the Coffee House
Water bowl and doggie treats are always available!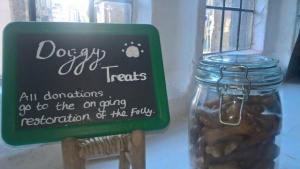 ♦ ♦ ♦

Check out your emails
whilst enjoying a delicious
cup of coffee and slice of cake

♦ ♦ ♦
Disabled / Wheelchair /

Pushchair Access
The Coffee House is accessed
via four steps.

Because of our Grade 1 listing we are not permitted to install a ramp or provide handrails to make access easier for people with disabilities/ wheelchairs/pushchairs. However, we are always happy to help customers negotiate the steps.
There is a Disabled Toilet in The Folly

♦ ♦ ♦
What our customers say ....

♦ ♦ ♦

Monday - Saturday : 9:30am - 4:30pm

Sunday : 10:30am - 4:30pm

♦ ♦ ♦

MENU

(Click on Menu to open as a pdf file)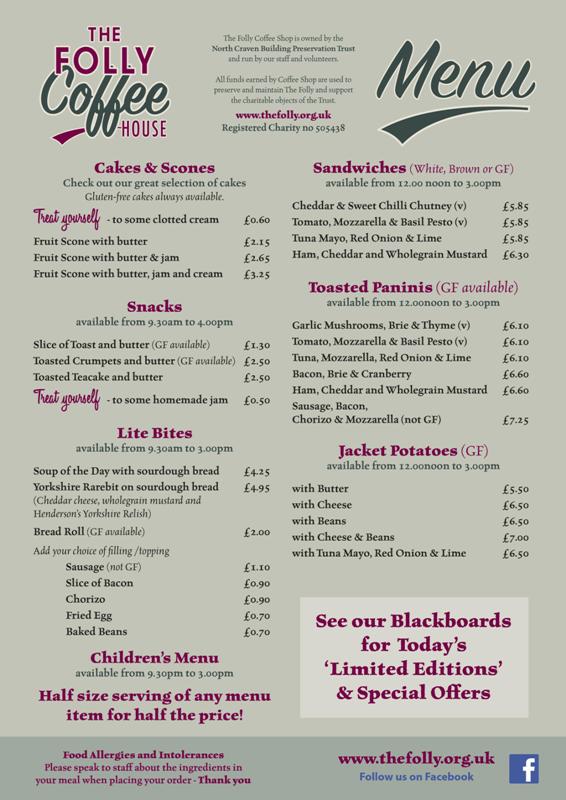 ♦ ♦ ♦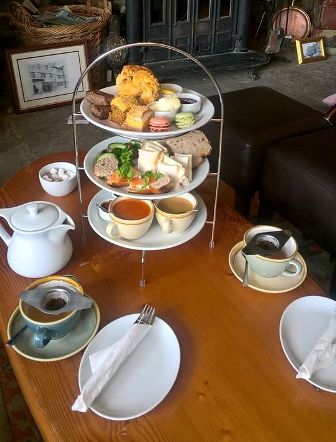 Available from 2pm-4pm every day
Booking Essential
Only £24.00 for 2 people with tea or coffee
or £30.00 for 2 people with a glass of Prosecco

Please call us on 01729 825185 to book a table
HOW TO FIND US
We are just a couple of minutes walk (150yds) from the Market Place
Take the road to the right of The Shambles and left of the Town Hall
Walk along High Street passing The Talbot Arms and King William IV Guest House.
The Folly can be found on the left hand side of the road opposite Neil Wright Estate Agents.

♦ ♦ ♦

There is no parking immediately adjacent to The Folly
but we are only a 2 minute walk (125yds) from the
'pay & display' car park at Greenfoot (BD24 9RB)
and a 4 minute walk (350yds) from the 'pay & display'
car parks at Ashfield (BD24 9AA) and Whitefriars (BD24 9JD)
♦ ♦ ♦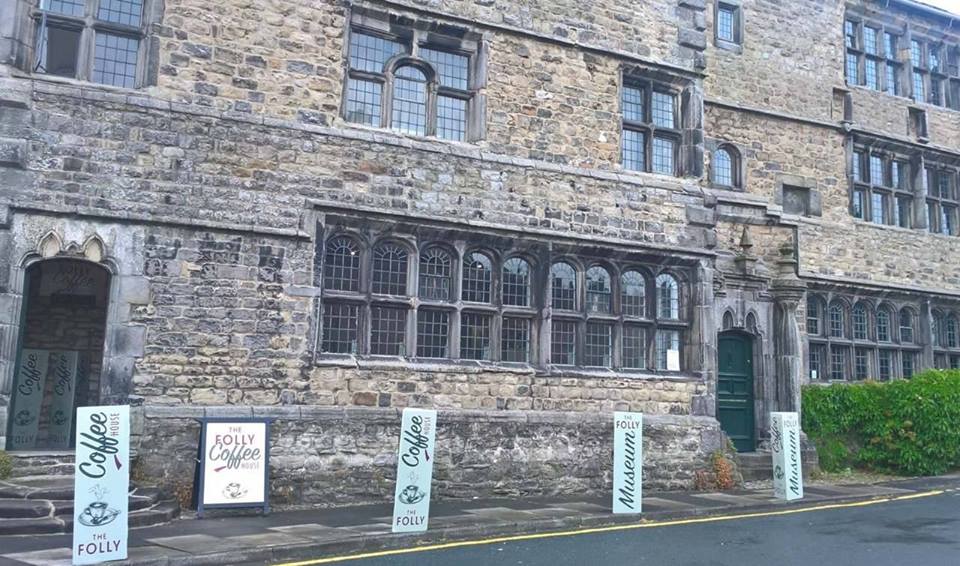 Experience the pleasure of relaxing with a drink and snack in the
wonderful surroundings of a 17th Century Grade 1 Listed Building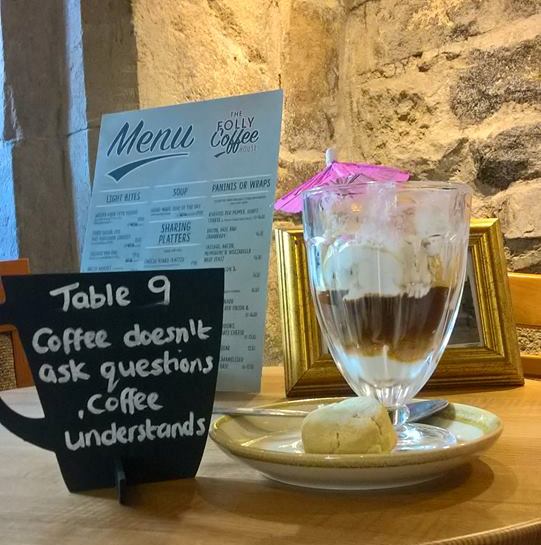 Coffee, Tea, Soft Drinks, Wines, Beers, Ciders
are all available at The Folly Coffee House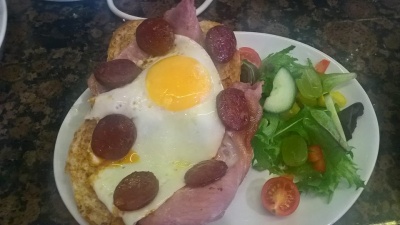 Breakfast, Brunch, Lunch, Afternoon Tea
Our Light-bites are a delicious choice at any time of day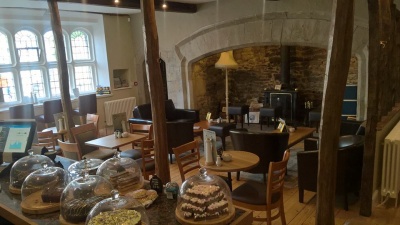 Spectacular Inglenook Fireplace, Oak Beams, Leaded Light Windows
A unique and relaxing setting to meet with friends ...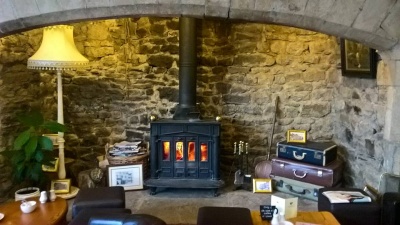 ... especially on chilly days when the fire is glowing

♦ ♦ ♦

The Folly is owned by the
North Craven Building Preservation Trust (NCBPT)
and managed by their staff and volunteers
(Registered Charity no 505438)

The Folly houses the Folly Coffee Shop,
the Folly Museum of North Craven Life, The Folly Artisans Gallery and
the Parlour Meeting & Activity Room
All funds earned by Coffee Shop, Museum and Parlour
are used to preserve and maintain The Folly
and further the charitable objects of NCBPT

♦ ♦ ♦

Find out more about The Folly and
The Folly Museum of North Craven Life >>

♦ ♦ ♦

The Folly Coffee House and Parlour is available for Hire
Contact Louise to discuss your requirements
01729 825185
lmitchell@ncbpt.org.uk