Forest of Bowland
Area of Outstanding Natural Beauty
The Forest of Bowland lies to the west and south west of the Settle area and covers an area of over 300 square miles.
The area provides some of the most peaceful and remote walking, cycling, wildlife-watching and star-gazing in the country.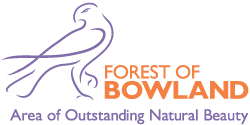 Bowland is essentially upland country forming part of the Pennines, sharing many of the characteristics of other upland areas like the Peak District and Yorkshire Dales National Park but its essential landscape character is one of grandeur and isolation. The area is dominated by a central upland core of deeply incised gritstone fells with summits above 450m and vast tracts of heather-covered peat moorland.
The fells' fringe of foothills is dissected by steep-sided valleys which open out into the rich green lowlands of the Ribble, Hodder, Wyre and Lune Valleys. Well-wooded and dotted with picturesque stone farms and villages, these lower slopes, criss-crossed by drystone walls, contrast with and complement the dramatic open sweep of the gritstone heights.
On its south-eastern edge, famous Pendle Hill forms the outlier of the Forest of Bowland AONB.
The combination of 'wild' expanses of open moorland and estate landscapes on the moorland fringe together with the transitional landscapes to the lower lying river valleys gives this area a distinctive quality of its own. The cloughs, steep sided and wooded valleys, provide a strong link between the upland and lowland landscapes.
Bowland's ecological features make it a nationally important area for nature conservation and 13 per cent is designated as Sites of Special Scientific Interest. The moors are a major breeding ground for upland birds and the major part of the Bowland Fells is designated as a Special Protection Area under the European Birds Directive. The lowlands contain important ancient woodland habitat.
Building in Bowland uses local gritstone and has a strong vernacular style which adds to the quality of the landscape. The AONB is sparsely populated with over three-quarters living in villages, and the remainder in loosely-knit hamlets or isolated dwellings in open countryside. Traditional villages such as Slaidburn, Downham and Newton have seen very little modern development.
Sheep and beef farming predominates in the uplands with dairying being the major land use in the valleys. There is some forestry, water catchment, mineral extraction, and grouse shooting. Increasingly, tourism is adding extra income to the local rural economy.
WALKS .....
FIND OUT MORE .....

NEARBY .....