Graveyard Tours
Curious Tales from an Ancient Graveyard
A fascinating and entertaining guided tour about Settle people buried in the graveyard of their Parish Church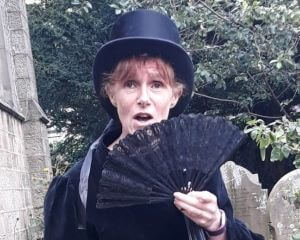 Sarah Lister - Tour Guide
Every gravestone rests upon a life story waiting to be told and so every grave provides a little slice of history.
What better way to discover the history of Settle than to check out the folks buried in the graveyard?
The tours are led by Sarah Lister, a local historian who, along with a small team of local enthusiasts, has uncovered forgotten stories of past Settle residents.
This is an opportunity to learn about fantastic achievements (many against the odds!), interesting scandals and unfortunate tragedies.

COMMENTS FROM VISITORS
'History is wonderfully complex. As a result, it is difficult to bring to life and make relevant, but, my word, your work is a 'tour de force'. A quite wonderful performance, full of interesting anecdotes and nuggets of information that create a very real sense of the rich social fabric of Settle society, quite literally, from the ground up!'
'The light way you present a serious study is so impressive. You're teaching us such a lot and often telling us things that are painful as well, but it feels like following an exciting, moving, mystery story.'
'I never knew a graveyard could be so entertaining - it's like 'Who Do You Think You Are' with a sprinkling of 'Horrible Histories' - brilliant!'
Graveyard Tours at Holy Ascension Church
Each tour has a different theme and will run even if it rains.
Entry is by ticket which must be purchased in advance from The Folly.

See 'Settle Graveyard Project' Facebook page for further details.