LOCAL AUTHOR, JULIA CHAPMAN, talks about her Dales Detective series of books in which the market town of Bruncliffe is loosely based on Settle >>
Wednesday, 6 May 2020 | Admin
JULIA CHAPMAN TALKS BRUNCLIFFE
by Julia Murfin
The Settle area has long inspired writers and its latest literary incarnation is as Bruncliffe, the setting for Julia Chapman's 'Dales Detective' page-turning cosy crime series.
The books follow the fortunes of Samson O'Brien and Delilah Metcalfe with the action taking place in and around Bruncliffe, which is recognisable as Settle - with added artistic licence. Locally-based author Julia created the fictional town after falling in love with the area on moving here from France nine years ago.

Julia Chapman
"I quickly became 'hefted' to the Settle area," said Julia. For those unfamiliar with the term, it's a northern, agricultural word used to describe how upland sheep instinctively know their territory on the open fells.
"I had finished writing a series of books set in France and while I was out running I was thinking what to do next. I had intended to write a gritty, urban thriller, but surrounded by lambs and drystone walls I was pulled away from that. A more gentle series took shape as there's something about this area which really doesn't lend itself to dark crime."
Julia drew a rough two-mile radius round Settle with everything inside geographically subject to her imagination. All the surrounding dales are true to life, with the exception of Thorpdale, Samson's home, which is a made-up valley to the north of Bruncliffe.
For the reader navigating real life Settle with Bruncliffe in mind, there's a lot to recognise. Two railway stations, town hall, church and viaduct. Peaks Patisserie is in the Market Place, roughly where Boots and the Naked Man can be found. Meanwhile The Fleece pub and the office are in High Street.
Julia said: "By not making Bruncliffe too real it gives me more creativity – I can put the library where I want and give the town an auction mart if I feel like it! I wanted to base it on Settle because it's a living town, it's real and not a showpiece. I wanted my characters to be an embodiment of the place."
The fictional name for Settle is inspired by the bronzed hue of Castleberg seen when the sunset reflects on the landmark crag and was carefully researched to ensure an authentic sounding placename.
Julia consulted a professor at the University of York who confirmed that 'brun' means 'burnished' in Anglo-Saxon - it is used in that context in Beowulf. 'Cliffe' relates to the limestone outcrop.
After making her home all around the UK and the world, including France and Japan, Castleberg and the surrounding area has captured Julia's heart. Readers everywhere hope that means lots more adventures for the Dales Detective.
Date with Danger (Pan Macmillan ISBN 9781529006827) is the latest book in the series, following Date With Death, Date With Malice, Date With Mystery and Date With Poison. All are widely available, including at independent Settle bookshop Limestone Books www.limestonebooks.co.uk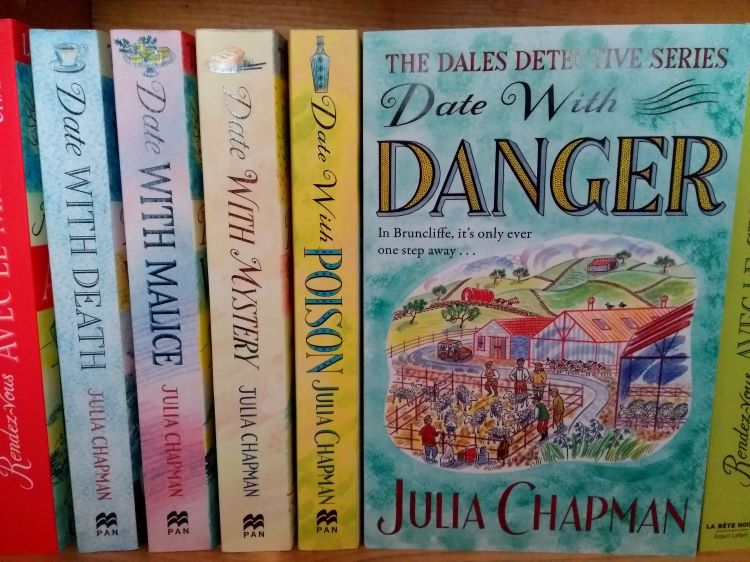 The Dales Detective Series
Blog written by Julia Murfin