Settle - Carlisle Railway
Opened 1876
Officially Designated Conservation Area

The Settle-Carlisle Railway Conservation Area is a 78-mile section of mainline railway that is considered to be an area of special architectural and historical interest.
In a bid to preserve the character and appearance of this historically important section of Britain's national rail network, it was officially designated a conservation area in 1991.
It is the longest conservation area in the United Kingdom and it covers the entire railway (including all of the associated historic structures) between Hellifield Junction in North Yorkshire and Carlisle Citadel Station in Cumbria.
The 72 mile route from Settle to Carlisle takes you on a journey through the magnificent Yorkshire Dales, over the 24 arches of the Ribblehead Viaduct before plunging in to the longest tunnel on the line at Blea Moor. Emerging onto the side of Dentdale, the line leaves the Dales at Garsdale and makes it way through the gentle, lush rolling hills of the Eden Valley, with rural villages and market towns before arriving at the great border city of Carlisle.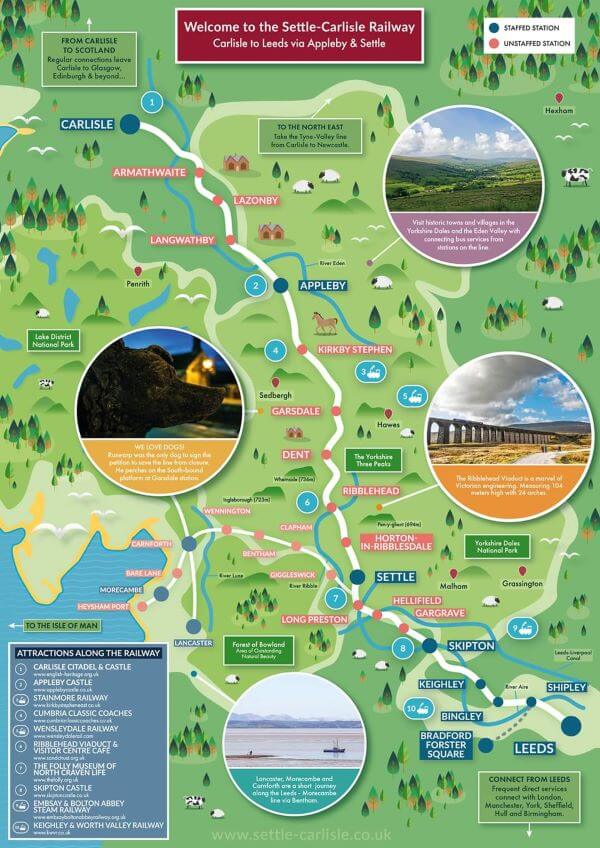 Find Out More ....
Friends of the Settle-Carlisle Line (FoSCL) >>
The Settle-Carlisle Railway Development Company >>
Settle-Carlisle Railway Conservation Area >>