The Golden Lion
Cheerful Pub and Inn in the heart of Settle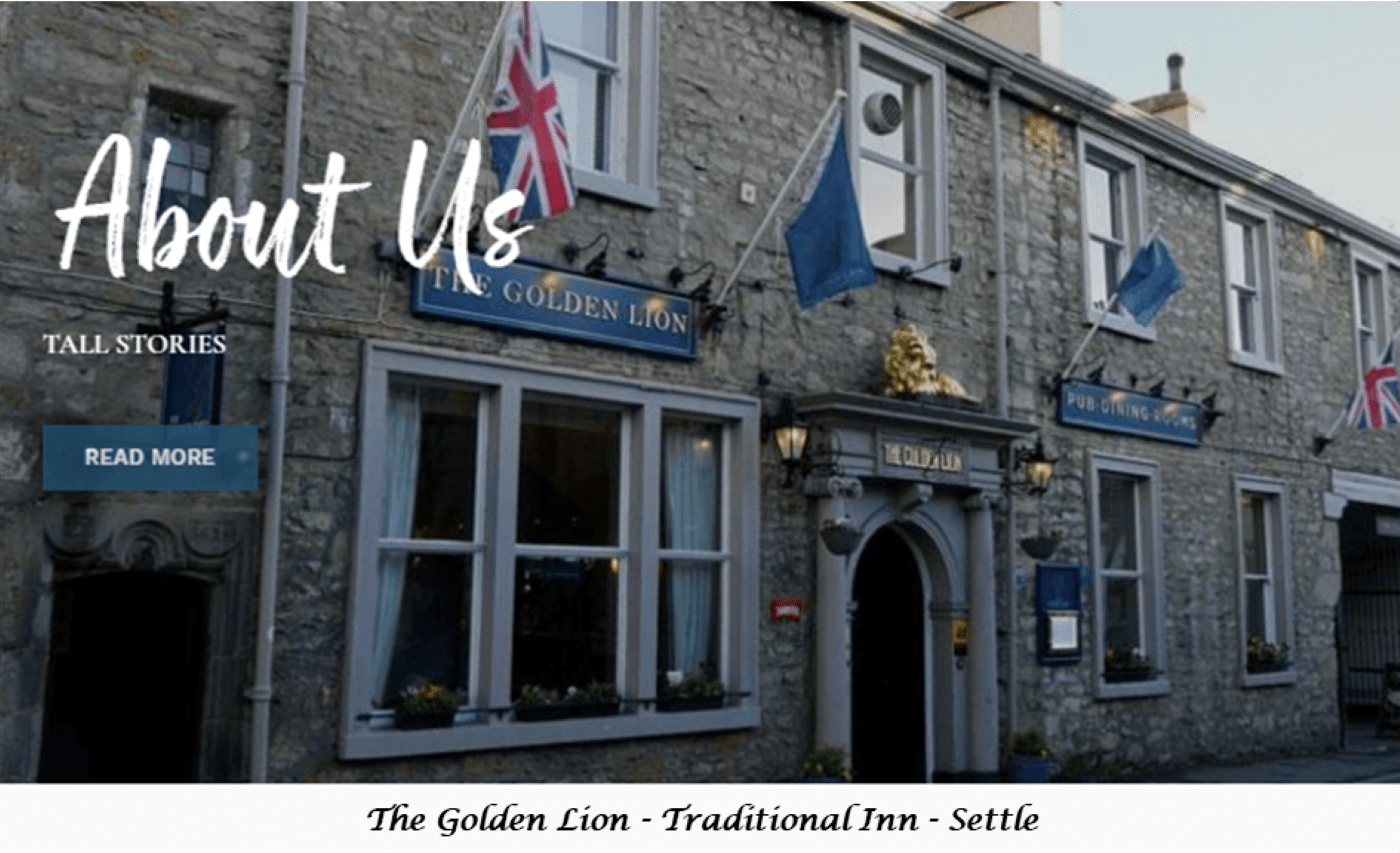 Duke Street
SETTLE
BD24 9DU
01729 822203
Stay with us at The Golden Lion at Settle in the beautiful Yorkshire Dales.
Head out into the great outdoors, take in the peace and quiet and admire the scenery of this rambler's paradise, and then return to our cheerful pub and inn, in the heart of this historic market town.
We are a four silver star AA rated inn and have 14 beautiful bedrooms, each one with homely touches such as fresh milk for a cup of tea and chunky biscuits for dunking and nibbling.
Rooms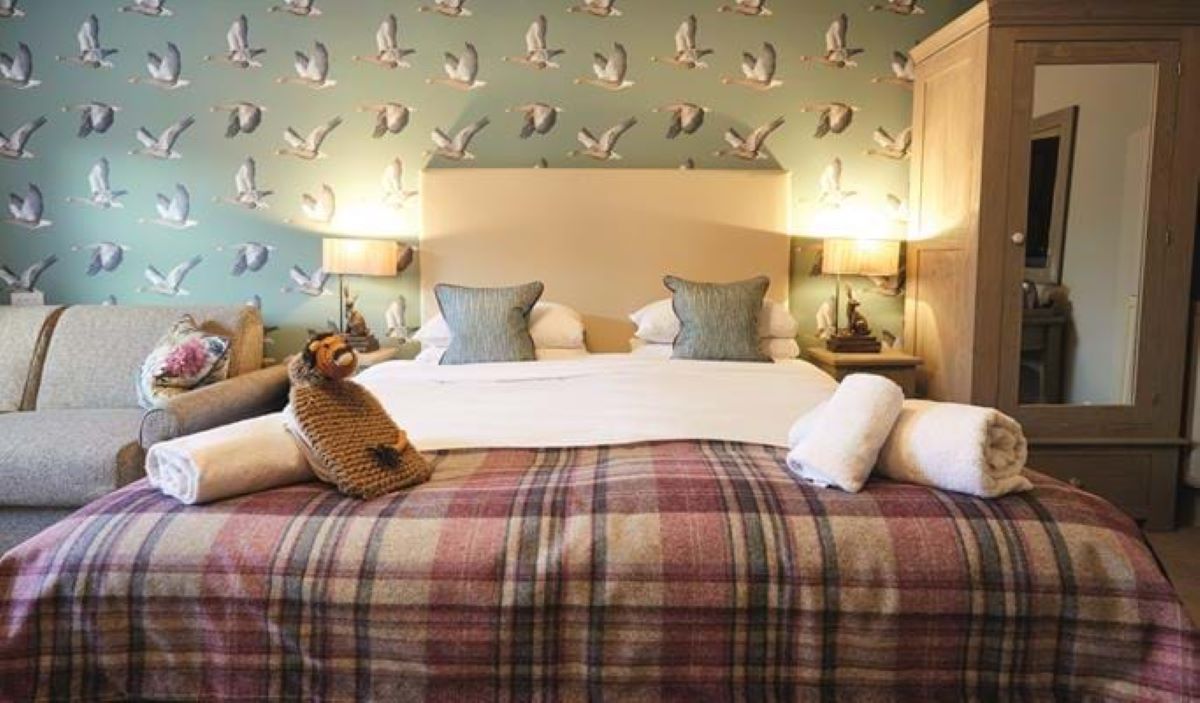 Our standard, twin and character rooms are wonderful spaces to relax, especially after an exhilarating day out in the Dales.
We offer pet-friendly rooms, so please contact us for more information on availability and facilities.
Like the bedroom, you've always wanted. A big comfy bed with a cosy tartan throw. Sofas and chairs that are actually soft and not just for show.
Then the fun bits, a golden lion covered hot water bottle and tea cosy for a talking point.
Every room completely unique with homely touches such as fresh milk for a cup of tea and chunky biscuits for dunking and nibbling.
Standard Room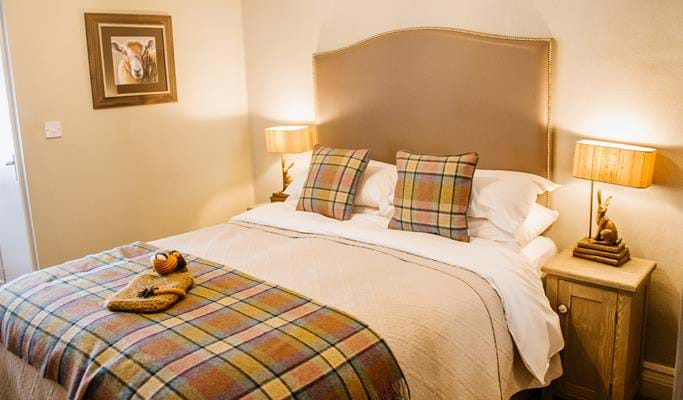 Beds large and comfy. A perfect base for TV watching with a mug of tea. Room to chat, plan and idle the hours away in perfect comfort.
Ideal for short stays and anyone who appreciates warm hospitality and a great place to sleep.
Character Room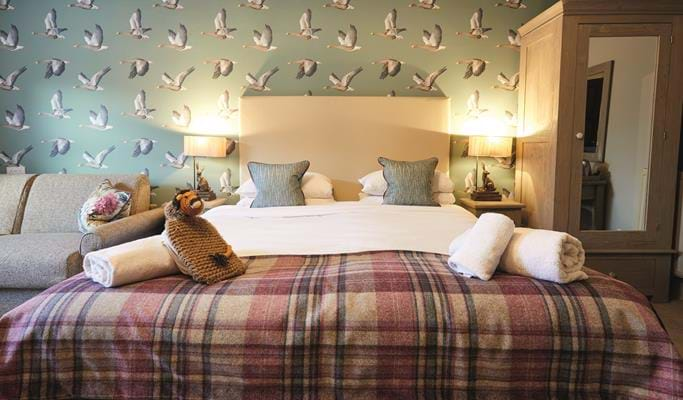 Rooms with an extra touch of class and a bit more space. For that real treat feeling. A large sofa. Kick off your shoes and relax. Chunky wooden headboards and lots of little characterful bits.
Ideal for a couple of nights or a stay that's just a little bit special.
Twin Room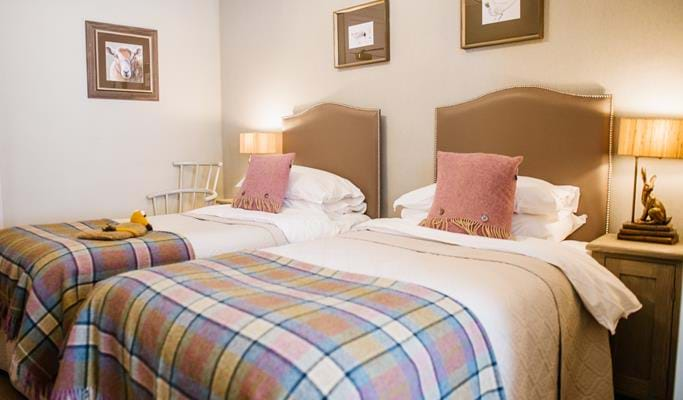 Double trouble. Two incredibly comfortable beds.
Ideal for sharing with friends and family or just because you fancy a whole bed to yourself.
Rooms that are genuinely great spaces to lounge around in. Calming, neutral shades with splashes of character, colour and lovingly restored furniture that has been in the property for almost 400 years.
Food
Proper food. Wholesome and hearty and more importantly, home-made.
Chunky chips and a huge suet pudding for the extra hungry. Thick gravy for dipping and mopping up. Tasty tapas for nibbling in the sun. Something for everyone. Salads, smaller platters, delicious puddings and plenty to keep the littles ones happy.
Lots of spaces for eating and drinking. A restaurant, recently refurbished, with cosy corners. A bar with its traditional wooden panelling - concealing a story or two. And outdoors, a sun trap serving food all day long.