Yorkshire Dales National Park
The Yorkshire Dales National Park lies to the north and east of the Settle Area and covers an area of over 860 square miles.
Rolling hills and wandering dales. Rugged and wild. Calm and beautiful. A living landscape to explore.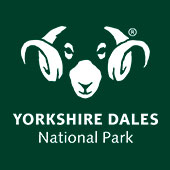 The stunning landscape of the Yorkshire Dales was shaped over millennia by ice. This created a rolling landscape of lush dales (valleys), windswept hills like the famous Three Peaks and vast expanses of heather-covered moors.
Over the centuries, people's interaction with nature has produced countryside of incredible beauty. Covering 1,762 sq kilometres (860 sq miles), the National Park is a treasure trove of special features. You can enjoy deep ravines like Gordale Scar, the soaring limestone amphitheatre that is Malham Cove, awesome cave systems including Gaping Gill, the lakes of Semerwater and Malham Tarn and spectacular waterfalls like Hardraw Force and Aysgarth Falls.
The Settle area lies within the Yorkshire Dales and straddles the boundary of the Yorkshire Dales National Park.
The Yorkshire Dales National Park is one of the most important areas of the United Kingdom for its rich and diverse wildlife heritage and has the largest area of nationally and internationally important habitats of any National Park. This ranges from the wildflower-rich hay meadows and pastures in the dale bottoms, through to the moorland fringe with its rush pastures so important for wading birds and the windswept uplands with their open heather moorland and blanket bog, to the unique limestone pavements.
The Yorkshire Dales National Park is home to a wide range of species. Many of these are rare or scarce nationally and the Yorkshire Dales National Park is the last stronghold for many plant and animal species.
Many species are adapted to certain conditions and these lead to a wide diversity of plants and animals in the Yorkshire Dales ranging from the lime-loving plants and invertebrates of the Limestone Country to the breeding birds of the moorland and moorland fringe.
The habitats and species found in the countryside are often closely linked with the underlying geology of the area along with natural processes and human influence.
WALKS .....
FIND OUT MORE .....